Superthal Heating Systems
SUPERTHAL heating modules consist of vacuum-formed ceramic fiber with an integral KANTHAL SUPER heating element. The modules are intended for use in laboratory or production furnaces/heaters, where compactness, rapid heating and accurate heating profiles and control are of utmost importance. SUPERTHAL is available in a variety of standard sizes. The standard shapes are muffles, half cylinders, flat panels and radiators. Tailor-made modules can be supplied to optimize the design and function of your particular application. With SUPERTHAL very quick ramping is achieved during both heating and cooling. The possibility to obtain very accurate temperature control is one of the great benefits of the SUPERTHAL design.
Heating modules with Kanthal Super elements and ceramic fiber in the form of half-cylinders, cylinders, panels or completely tailor made for use up to 1650ºC (3000ºF). Superthal is used whenever concentrated heat is needed, for example in the electronics and the glass industry as well as in dental furnaces. The heating element is made of different Kanthal Super materials. Kanthal Super elements have proven long life even when working at high power density with fast heating and cooling cycles.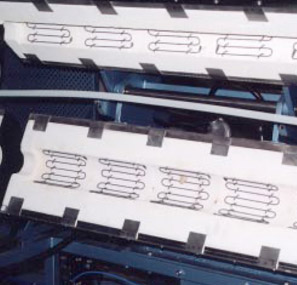 Product Range
Superthal Muffles SMU
Superthal Half Cylinders SHC
Superthal Flat Panels SEP
Superthal Single Water Reactor SWR
Superthal Infrared Radiator SIR
Superthal High Temperature
Superthal Micro Heater for optical fiber processing
Superthal High Power Reflector
Literature