Press Heating Elements
At Hi-Temp Products Corp., we are equipped with advanced production equipment that enables us to manufacture a variety of custom heating elements for virtually any challenging project. We can work with materials such as Kanthal A1, AF, APM, and NI-CR wire; providing a broad spectrum of capabilities for different applications. We were recently approached by a customer who required the manufacture of hanging heaters for their quench press operations. Each heater was designed with overall part dimensions of 71 - 1/2" in length, 6 - 1/8" in width, to tolerances of ± .0005".
The customer supplied us with all of their 2D CAD drawings and we worked with them throughout the entire process to understand their application goals. To fabricate each heater, we employed our bending and cutting capabilities as well as the creation of 3/4 - 10 threads. These components are composed of iron-chromium alloy that is well known for its extended performance life when subjected to continuous operating temperatures. It also features higher oxidation resistance when compared to other grades. In less than a week, we were able to fabricate these "U" shaped heating elements that surpassed our customer's expectations.
To verify each unit's temperature capabilities, we used our 16,000 power watt system to ensure that they performed accordingly. Recognizing our ability to provide a comprehensive range of manufacturing processes applied to a wide range of material choices, our customer was impressed with our knowledge and professionalism. They continue to order a dozen quench press heating hangers from us each year. To learn more about our ability to custom fabricate heating hangers, please contact us directly or refer to the table below.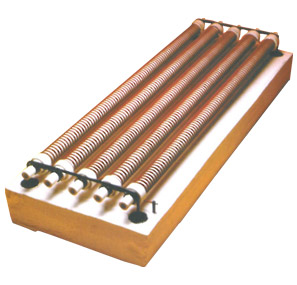 Literature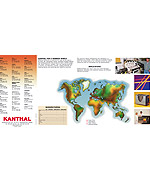 Kanthal General Presentation
(PDF - 405KB)
Press Heating Element Highlights
Product Description

Press Heating Elements
Capabilities Applied/Processes

Primary: Bending - Cutting - Threading (Threads are 3/4 - 10 threads)
Overall Part Dimensions

71.5" Length - 6 1/8 Wide
Tightest Tolerances

+/- .0005"
Material Used

Iron Chromium
In process testing/inspection performed

16,000 Power Watt System
Volume

12
Delivery/Turnaround Time

5 to 7 Days
Standards Met

Customer supplied print, 2D CAD Drawing
Product Name

Press Heating Hangers