Furnace Power-LID Heating Modules
Hi-Temp Products Corp. is proud to offer a tough new furnace lid providing temperatures up to 1300ºC. Designed for on-line voltage, this innovative lid delivers efficiency right from the start by eliminating power supply requirements. Plus POWER-LID 1400's lack of element aging pays big dividends long-term by allowing one-at-a-time element replacement. Simply install our lid and turn on the power. A great alternative to silicon carbide elements; POWER-LID 1400 can be utilized in the die casting and heat treating industry.
Let HI-TEMP build one for you. HI-TEMP custom builds power lids in all shapes and sizes for fast installation and replacement of any furnace surface - vertical and horizontal. The coaxial ceramic support rods combined with Kanthal's stable hi-temperature resistance materials, allows fast and easy replacement of individual elements. Slide out the support rod, replace the damaged element and you're back in full production.
Most important, POWER-LID 1400 delivers increased output by reducing cycle times. Ultimately, HI-TEMP furnace lids maximize furnace efficiency to new higher levels. Compare the advantages of POWER-LID 1400 on a specific basis. Our hi-temperature experts will gladly provide a detailed analysis of how POWER-LID 1400 can improve your application and production.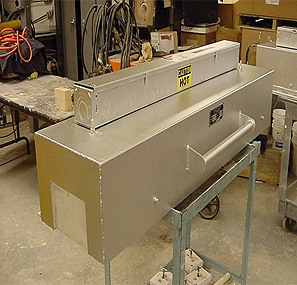 Literature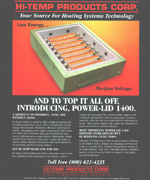 Power Lid
(PDF - 840KB)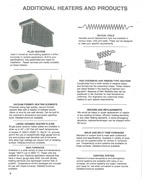 Additional Products
(PDF - 520KB)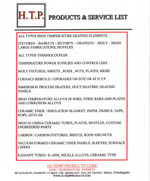 Products and Services
(PDF - 387KB)