Power Block Heating Modules
Hi-Temp Products Corp.'s tough new heating module delivers up to 3 times the surface loading of NiCr. New power block 1400 heating modules provide furnace temperatures up to 1300ºC because they are based on Kanthal's high performance APM Iron-Chrome-Aluminum element material. In addition to high temperature capacity, the APM elements offer much greater stability at heat. The Power-Block 1400's design, strength and stability allow extraordinary power densities that exceed NiCr by nearly 300%.
Running on line voltage with no aging makes Power-Block 1400 a great alternative to SiC. Eliminating power supply requirements lets Power-Block 1400 deliver efficiency right from the start. Plus, Power-Block 1400's lack of element aging pays big dividends long-term by allowing one-at-a-time element replacement. No balancing of element resistance before start. Simply install the element and turn on the power.
Modular design allows fast, easy installation and replacement on any furnace surface. High temp custom builds Power-Block 1400 heating Modules in all shapes and sizes. The coaxial ceramic support rods combined with Kanthal's stable APM element material allow wall, ceiling or floor mounting. Individual elements are easily replace by sliding out the support rods and replacing the damaged element. We'll gladly provide a detailed analysis of how Power-Block 1400 can improve your application.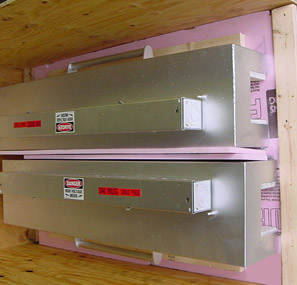 Power Block Heating Module Highlights
The new Power-Block 1400 Heating Modules provide furnace temperatures up to 1300ºC
Based on KANTHAL'S high performance APM Iron-Chrome-Aluminum element material
Much greater stability at higher temperatures
Allows power densities that exceed NiCr by nearly 300%
Custom built in all shapes and sizes
Modular design to allow easy installation and replacement