Moduthal Interchangeable Ceramic Heating Modules
Kanthal embedded elements are prefabricated radiant heating modules designed to suit a wide range of thermal processing applications at element temperatures up to 1350°C. To optimize performance all element coils are fabricated primarily from Kanthal A-1 and Kanthal AF resistance Alloys depending on the application. The coils of resistance material are held in place in a non-electrically conductive, cast-able, high quality ceramic to form the MODUTHAL panel.
The coiled element may be fully embedded, semi embedded or open coil, with the coils being fully or only partially supported by the refractory. The construction method ensures accurate positioning of the coils and eliminates the possibility of the sagging, distortion and coil migration associated with conventional open coil elements in grooves or on tubes.
The high thermal conductivity of the embedding refractory ensures improved heat distribution when compared with exposed coils. Multiple zones can be used to provide sophisticated temperature uniformity within a furnace and due to the modular construction of the element system individual units can easily be replaced without altering the furnace characteristics.
Kanthal has taken a major step forward with the introduction of MODUTHAL Fully Embedded, Semi Embedded, Open Coil and High Temperature type elements produced using the Kanthal exclusive manufacturing process. The result is an element which possesses the following features:
HIGH QUALITY RELIABLE WORKMANSHIP
SUPERIOR ELEMENT SUPPORT
EXCELLENT TEMPERATURE CAPABILITY
GOOD DURABILITY
FULLY INTERCHANGEABLE MODULES
INDIVIDUAL DESIGN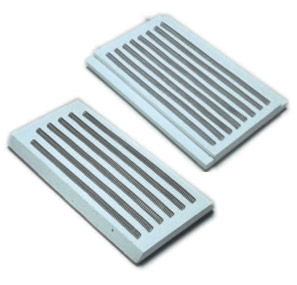 Moduthal Product Range
MODUTHAL Fully Embedded
MODUTHAL Semi Embedded
MODUTHAL Open Coil
MODUTHAL High Temperature Mufflers
Literature