Metallic Elements
Kanthal APM is a resistance material which can be used to improve the performance at high temperatures, where conventional metallic elements can cause problems (e.g. bunching, creeping, oxide spalling) and to open up new applications where metallic elements are not used today.
We offer ready-made furnace elements manufactured in Kanthal workshops from KANTHAL or NIKROTHAL alloy for furnace temperatures between 50-1350ºC, 120-2460ºF. The two main types of alloys have their own specific properties, with advantages and disadvantages, and are supplied in many different grades and forms. We can assist you:
in choosing suitable element material, element type, support system and insulation
by supplying complete heating elements ready for installation.
with re-designing gass or oil-fired furnaces to electricity
Our modern workshops have developed considerable experience in manufacturing heating elements and can manufacture to any specifications.
Our delivery time is short and our service objectives are high.
Bundle Rods
Coils
Rod Over Bend (R.O.B.)
Strip Elements
Porcupine
Plug Heaters
Folded Ribbon Elements
and more ...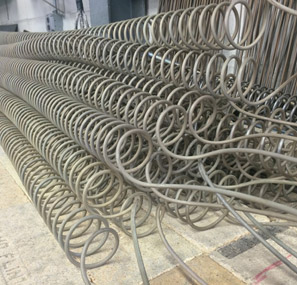 Literature