Insulation Heating Module
At Hi-Temp Products Corp., we not only custom design and manufacture high-performance heating elements, but we also build insulated heating modules. They can be custom fabricated for either small laboratories or large production furnaces. While we offer standard module designs in panel, half-cylinder, and tubular form, we can also create heating modules with embedded elements in a variety of shapes and sizes. They can perform up to maximum temperatures of 1300°F. They're also useful for compact furnace designs; providing a high degree of efficiency and reliability.
Our customer in Connecticut required a specialty heating module based on their supplied 2D CAD design. The design called for overall dimensions of 18". We leveraged our in-house bending and welding equipment to fabricate straight stock wire and form it into the insulation's unique shape. Upon completion, each unit was tested for quality and approved for immediate use by our team. Known as Fibrothal, our heating modules utilize vacuum-formed, ceramic fiber insulation segments that can be easily integrated with heating elements. Fibrothal is fully customizable; capable of being built into normal size production furnaces in a matter of a few days.
Our customer was surprised by our product quality and workmanship, realizing that our modules provided longer operational life than traditional heating element systems. As a result, they now order ten units per month, and we continue to work with them on additional projects. To learn more about our custom heating modules, please contact us directly or refer to the table below.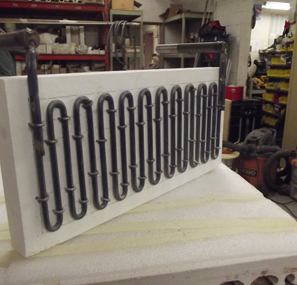 Literature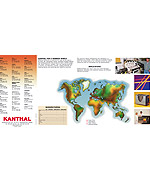 Kanthal General Presentation
(PDF - 405KB)
Insulation Heating Module Highlights
Product Description

Heating Module - Insulation
Capabilities Applied/Processes

Primary: Bending - Welding
Equipment Used to Manufacture Part

Straighten Wire - Designed for Resistance
Bending it to form it into the insulation
Overall Part Dimensions

18" or to fit heating element
Material Used

Ceramic Fiber
Industry for Use

Special Alloys
Volume

10 Pieces Monthly
Delivery/Turnaround Time

In Stock
Delivery Location

Connecticut
Standards Met

Customer supplied print, 2D CAD Drawing