Heating Coil Elements
At Hi-Temp Products Corp., we have a wide range of experience in manufacturing custom heating elements in a variety of dimensions. Our highly skilled staff can help choose the proper heating element material, element type, support system, and insulation for virtually any application need. Using our in-house production capabilities, we can custom design heating elements according to our customer's exact specifications. In the project highlighted here, a customer in Connecticut asked us to manufacture heating coil elements based on their supplied 2D CAD design. The elements were to be used in a glass tempering application and required overall part dimensions ranging from 7' to 8' in length.
The customer's drawings called out the use of iron chromium alloy for the project due to its ability to continuously operate under high temperatures and resist excessive oxidation. The material was sourced by our team in steel rod form, and precision turned to its specified O.D. using our lathe. It was then fed through our winding equipment to achieve the coiled shape. Along the entire process, we performed extensive inspection and testing to ensure that all of the coils met the wattage and amperage requirements. The final coils were ready for immediate installation and shipped to our customer in less than a week.
The customer was impressed by our quality and ability to deliver these high-value products within their aggressive time line. Throughout each stage of production, we conducted rigorous testing to verify that each unit was defect-free and ready for installation. Our efforts in this project resulted in a long term relationship with this customer which consists of annual orders of between 500 to 600 units as well as various other projects. For more information on our heating coil manufacturing capabilities, please contact us directly.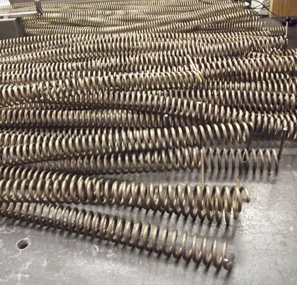 Literature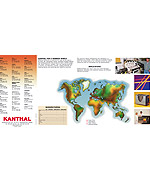 Kanthal General Presentation
(PDF - 405KB)
Heating Coil Element Highlights
Product Description

Heating Coils Elements
Capabilities Applied/Processes

Primary:
Lathe

Secondary:
Winding
Equipment Used to Manufacture Part

Lathe, Shaft & Steel Rod
Overall Part Dimensions

7' to 8'
Tightest Tolerances

none
Material Used

Iron Chromium Grade Materials
Material Finish

none
In process testing/inspection performed

Meets Watts & Amps Requirements
Industry for Use

Glass Tempering
Volume

500 to 600 Annually
Delivery/Turnaround Time

5 to 7 Days
Delivery Location

Connecticut
Standards Met

Customer supplied print, 2D CAD Drawing
Product Name

Heating Coils Elements