Heating Alloys
Heating elements made from Kanthal alloys have 2-4 times longer life than heating elements made of nickel-chromium material. Higher temperatures mean greater differences. When heated, resistance heating alloys form an oxide layer on their surface, which prevents further oxidation of the material. To accomplish this function the oxide layer must be dense and resist the diffusion of gases. It must also be thin and adhere to the metal under the temperature fluctuations.
The design of the heating element makes it possible to pack considerable power into a small space. They are made of Kanthal heating wire wound into the form of a special spiral and mounted on ceramic tubes which are then fitted into the cartridges.
The air is delivered by fans and is heated as it flows through the cartridges. Due to the compact design of the element, a very large proportion of its surface is in contact with the air. Heat transfer is efficient and the turbulence of the air around the element prevents overheating. As a result, these elements can withstand higher thermal loads than, for instance, tubular elements or conventional spiral elements on ceramic tubes. All of the elements in a cartridge are usually of the same length and diameter, but the rating can be varied by varying the wire diameter. Cartridges of different ratings can thus easily be produced by selecting the appropriate wire diameter or by varying the number of elements in the cartridge.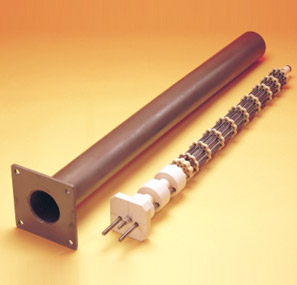 Literature
Heating Alloy Highlights
Product Range

Appliance Wire 0.10-2 mm, 0.00468-0.078 in Ribbon

The heating source in most electric household appliance such as ovens, toasters, hair dryers, washing machines etc.

Industrial Wire 1-12 mm, 0.039-0.47 in Strip

Heating elements in industrial furnaces and processes.
Temperature Range

Alloy
KANTHAL APM
KANTHAL A-1
KANTHAL A
KANTHAL AE
KANTHAL AF
ALKROTHAL
NIKROTHAL 80
NIKROTHAL 70
NIKROTHAL 60
NIKROTHAL 40
NIFETHAL 70
NIFETHAL 52

Max. Temperature
1425ºC
1400ºC
1350ºC
1300ºC
1300ºC
1100ºC
1200ºC
1250ºC
1150ºC
1100ºC
600ºC
600ºC