Furnaces Accessories
Hi-Temp Products Corp. manufactures a variety of custom heating elements for various applications. Take a look at our furnace accessories below.
Plug Heaters
These units can be plugged in the wall, the roof or the bottom of the furnace.
Temperature up to 800ºC
All connections inside for easy installation.
Can be used for large ovens, drying of ore concentrates, sealing and shrink-film packaging just to name a few applications.
Excellent temperature equalization.
APM Radiant Tubes
Made from well-proven powder FeCrAl alloy
Excellent form stability prolongs tube life.
Protective surface oxide.
Aluminum oxide protects the alloy from carburisation in high carbon-potential environments.
High loading potential at furnace temperature of 1000ºC
Low density for low weight which is less than equivalent NiCr tubes of the same dimension.
Furnace Accessory Highlights
Other Products

Furnace Hardware & Accessories
Refractories
Power Supplies
Radiant Tubes (up to 2370 deg F)

Heating Alloy & Strip
Superheating Elements
Silicon Carbide
Superthal(c) Muffles
Other Services

Custom Designs:


Semi-conductor
Glass
Heat Treating Industry

Field Installation:


On site installation
Retrofitting
Refurbishing
Upgrades
Dismantle & Pick-up
Literature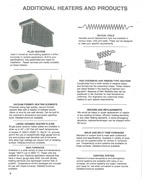 Additional Products
(PDF - 520KB)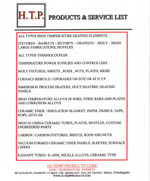 Products and Services
(PDF - 387KB)