Custom Ceramic Cylindrical Heaters
The staff at Hi-Temp Products Corp. fields years of experience in manufacturing ceramic heating modules for industries worldwide. All of our products are designed and fabricated in-house and include a comprehensive range of elements using an array of alloys. In this example we were asked by a customer in Connecticut to manufacture a batch of custom ceramic cylindrical heaters with overall part dimensions of 4-14" O.D. x 3" I.D. x 3" CG. They required heating modules that could operate effectively for heat treating, ceramics, and aluminum processing operations in laboratories.
We planned our production stages according to the customer's supplied CAD drawings and specifications. Through consultative discussions over the design, we helped our customer choose a suitable heating element material, element type, support system, and insulation. We also recommended our line of ceramic fiber heating modules to enhance their design. This project required both our diamond saw and wet saw cutting processes in order to accurately fabricate each cylindrical-shaped unit. We carefully installed, inspected, and tested each module ensuring that they met our customer's exact expectations.
The customer was extremely pleased with our work, commenting on our knowledge and creativity in using alternative design strategies that could meet their objectives. Thanks to our stringent quality management processes, we had a perfect success rate with no failures in our batches. We were able to deliver their first batch in less than three weeks, and we continue to provide additional orders at a rate of 20-30 each month. For more information on custom ceramic cylindrical heaters, please contact us directly for a quotation.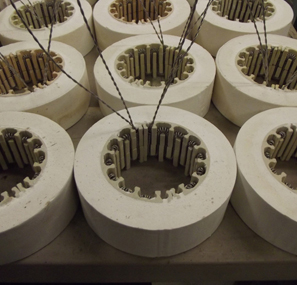 Ceramic Cylindrical Heater Highlights
Product Description

Custom Ceramic Cylindrical Heaters
Capabilities Applied/Processes

Primary: Cutting

Secondary: Installed Heating Element Meeting Wattage & Voltage Requirements
Equipment Used to Manufacture Part

Diamond Saws - Wet Saws
Overall Part Dimensions

W/O Heater Coil 3" ID x 4-14" OD x 3" CG
Tightest Tolerances

none
Material Used

Ceramic Fibers
Material Finish

none
In process testing/inspection performed

16,000 Power Watt System
Industry for Use

Heat Treating
Ceramics
Aluminum
Volume

20 to 30 Monthly
Delivery/Turnaround Time

2 to 3 Weeks
Delivery Location

Connecticut
Standards Met

Customer supplied print, 2D CAD Drawing
Product Name

Ceramic Cylindrical Heaters